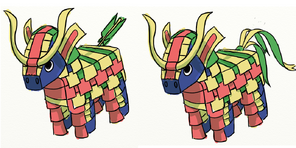 Nobunata is a normal type Pokemon. It has no evolutions.
General Info
Edit
Dex Info: 
Height: 
Weight: 
Color: 
Type: 
Ability: 
Egg group: 
Information Related to Game Mechanics
Edit
Gender ratio: 
Steps to hatch egg:
Catch rate:
Exp. At Level 100:
Base Exp:
Ev yield:
Base Stats
Edit
HP: 80
Attack: 90
Defense: 50
Special Attack: 55
Special Defense: 65
Speed: 110
Total: 450
By Leveling up:
00 Tackle
00 Bide
00 Knock Off
00 Sand Attack
04 Present
07 Encore
10 Horn attack
12 Follow Me
16 Endeavor
20 Selfdestruct
24 Present
26 Take down
29 Pain Split
33 Stockpile
33 Spit Up
33 Swallow
36 Fling
40 Double edge
45 Bounce
49 Memento
53 Explosion
56 Destiny Bond
By TM/HM:
By Breeding:
By Tutoring:
Ad blocker interference detected!
Wikia is a free-to-use site that makes money from advertising. We have a modified experience for viewers using ad blockers

Wikia is not accessible if you've made further modifications. Remove the custom ad blocker rule(s) and the page will load as expected.