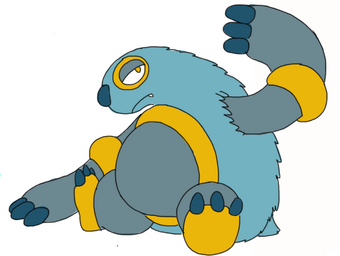 Water Sloth 2 is a Water-type Pokemon. It evolves from Water Sloth 1 by an unknown method.
General Info
Edit
Dex Info: "it drifts through river rapids as if they were a gentle current. Other pokemon sometimes climb on its belly to cross bodies of water."
Height: 5'5"
Weight: 203 lbs.
Color: Blue
Type: Water
Ability: Swift Swim/Rain Dish
Egg group: 
Information Related to Game Mechanics
Edit
Gender ratio: 
Steps to hatch egg:
Catch rate:
Exp. At Level 100:
Base Exp:
Ev yield:
Base Stats
Edit
HP:                              100
Attack:                           70
Defense:                        80
Special Attack:              80
Special Defense:           95
Speed:                          60
Total:                           475
00 Sleep Talk
00 Hammer Arm
00 Pound
00 Water Gun
08 Yawn
11 Bide
15 Curse
18 Slam
21 Aqua Ring
24 Water Pulse
31 Body Slam
37 Rest
37 Snore
42 Surf
48 Belly Drum
53 Block
58 Thrash 
By TM/HM:
By Breeding:
By Tutoring:  
Ad blocker interference detected!
Wikia is a free-to-use site that makes money from advertising. We have a modified experience for viewers using ad blockers

Wikia is not accessible if you've made further modifications. Remove the custom ad blocker rule(s) and the page will load as expected.